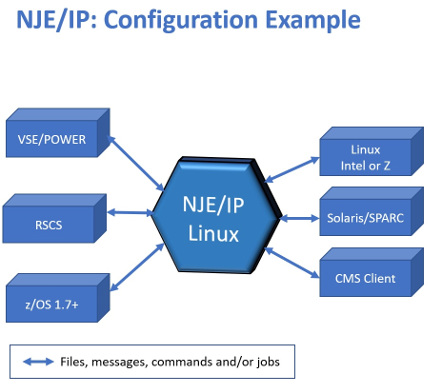 What is the NJE/IP?
Sine Nomine Associates' NJE/IP allows a user to interconnect NJE communication services on unmodified OS/390, VM, z/VM, z/OS, VSE, TPF, and -- for the first time – open systems (such as Linux (Intel) and Linux (Mainframe), Solaris connected to IPv4 and IPv6 IP networks.
***Now supports SNMP***
NJE/IP incorporates a complete bi-directional NJE implementation for a large range of mainframe, midrange, and desktop computing environments, and supports integration of development environments, workstation applications, and system management tasks into a reliable, stable, completely IP-based environment that is transparent to end user awareness.
Target Audience for the NJE/IP
NJE/IP meets the needs of users who:
NJE/IP Features
The most outstanding features of NJE/IP are:
Prerequisites
NJE/IP requires a supported operating system and IPv4/IPv6 connectivity to at least one NJE host. For System z, both an individual application package (for customers with an existing preferred Linux on System z distribution choice) or a self-contained appliance suitable for z/VM or native LPAR installation are available. On all other platforms, only the application package is available.
Delivery and Installation
NJE/IP code is delivered electronically by download from a password-protected repository. Installation and configuration documentation is included with the package in PDF form.
NJE/IP is available for immediate access upon payment of the invoice. 
Charges
NJE/IP is licensed based on the types of system and major release of the operating system desired. A separate maintenance subscription is available if you wish to receive support and updates.
Ready to test out the product for free? The trial license paperwork is located here
Where Can You Find Out More About NJE/IP?
Product Documentation